If you go to see Admission, the new "dramedy" starring Tina Fey and Paul Rudd and directed by Paul Weitz (Little Fockers), don't be surprised if you hear folks on the way grumbling about it being a bait-and-switch, and in a way they'd have a point. Admission is NOT your typical run-of-the-mill rom-com, contrary to what the film's marketing might have you expect, and honestly, that's a good thing. It's smart, original, and it sacrifices the easy gags or forced cuteness you might find in a Katherine Heigl vehicle for thoughtfulness and genuinely earned sentiment. It's not laugh-out-loud funny, but it is very good.
In Admission, Tina Fey plays Portia Nathan, a Princeton admissions officer of 16 years who loves her job and believes in her role as a gatekeeper for the university's elite student body. It's her job to look for those truly exceptional students who can and will succeed at Princeton and help the Ivy League school maintain its prestigious status, and she's good at her job, so much so that she's one of two women in line to succeed the outgoing dean of admissions. To earn the coveted job, however, she'll have to do an even better job at pitching the best and brightest of applicants to the Admissions board, so it's hardly the time for extraneous drama or distractions.
Enter John Pressman (Paul Rudd), a one-time Dartmouth colleague of Portia's and the director of a new "alternative" high school who's eager for Portia to meet one of his most promising students, Jeremiah Balakian (Nat Wolff). John also wants Portia to meet Jeremiah because he's come to believe that the brilliant young man is actually the son Portia gave up for adoption during her Dartmouth years, and he wants Jeremiah to have a relationship with his birth mother.
As you might imagine, Portia is seriously rattled by John's claims as well as his seeming lack of any sense of the appropriate. After all, admissions officers and school directors shouldn't have any informal contact at all, and here's John beating down her door and blowing up her phone trying to keep Jeremiah front and center in her thoughts. Plus, Portia's never seen herself as a parent — thanks in part to her decision to give up her baby in college, a decision she's never truly come to terms with, she's as sure of her inability to raise a child as she is of her ability to do her job. Now, the possibility that the child she felt unable to care for years before is an applicant she's being called upon to judge for Princeton-fitness has the potential to derail her ambitions and her entirely controlled and predictable existence.
Add to that unexpected drama her longtime boyfriend Mark (Michael Sheen) scurrying off with a scary Virginia Wolff scholar he got pregnant, having to spend time in the home of her über-feminist mother Susannah (Lily Tomlin, hilariously deadpan) during her visit to John's school, and her very inconvenient attraction to John, and you get one very frazzled woman. For the first time in a very long time, Portia has no clear sense of what to do except that she has to possibly jeopardize her career to help her might-be son become the most unconventional candidate ever admitted to Princeton.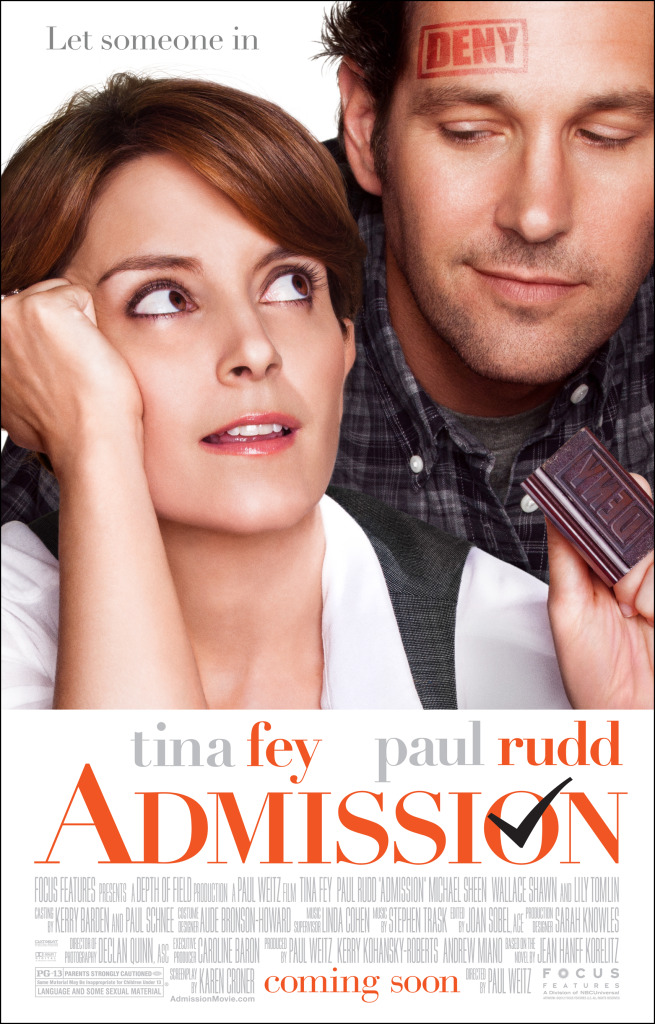 It can be argued that in Hollywood today there are few comediennes who do straitlaced-gone-frazzled better than Tina Fey, so she's a natural in this role. With Rudd playing her opposite in every meaningful way, someone who's very unconventionality inadvertently pushes all of Portia's buttons, the two have great chemistry and are tons of fun to watch interact on-screen. Fans of the two won't be disappointed in the least with Admission gives them, and it would certainly be interesting to see the two together in another film that called upon them to play against type. Fey and Tomlin are also great fun to watch, as it's clear that Tomlin is still at the top of her game when it comes to her comically piercing glare and the perfect dry delivery of a line.
But again, this film is not what fans of romantic comedies or even straight comedies might expect. Tonally, it has much more in common with the film that director Paul Weitz is best known for, 2002's About a Boy, which was also marketed as a romantic comedy vehicle for Hugh Grant at the time but was in execution much more of a drama with comedic situations. Like About a Boy, Admission is also based on a novel by the same name, this one by Jean Hanff Korelitz and published in 2009, and it's also filled with subtle insights on parents, parenting, and the people who fear getting involved in both for the complications inherent in them. The script by screenwriter Karen Croner is just as interested in preserving those insights and the book's peek behind the curtain of the Princeton admissions process as it is in romancing the audience with its charmingly mismatched lead couple.
All that attention to a remote and elitist world and all the talking about applicants and GPAs, however cleverly and hilariously handled (the scenes where Portia is actually reading and reviewing applications are among the funniest in the film), might be a turn-off to fans looking for more outright comedy. However, for audiences looking for something different, something original featuring genuine performances and set in a world lots of us think we know but few actually get to see, you could do far worse than Admission. If this sounds like you, give this film a try–more than likely, it will make the grade.
Score: 4 out of 5
Admission
Starring Tina Fey, Paul Rudd, Michael Sheen, Wallace Shawn, and Lily Tomlin. Directed by Paul Weitz.
Running Time: 117 minutes
Rated PG-13 for language and some sexual material.