The Spectacular Now is as effortlessly charming as its lead character, Sutter Keely, played by actor Miles Teller in his debut lead role. It's flawed, certainly, but the film's earnest, honest portrayal of love, relationships, and self-discovery in late adolescence is well-crafted enough to allow forgiveness of the film's shortcomings.
Sutter Keely is a high school senior who insists that he lives in the "now." Flask full of whiskey ever in his pocket, he lives for the next party, the next fun thing, and he shies away from no challenge whatsoever except for the most important one of all at his age: thinking about his future. When the girl he thought was his perfect match in every way, Cassidy (Brie Larson), dumps him in favor of someone a little more organized and goal-oriented, Sutter finds himself suddenly floundering, and after a night out drinking wakes up on an unfamiliar lawn looking up at Aimee (Shailene Woodley, The Descendents), a classmate delivering papers on her morning route. Aimee is the last girl anyone might expect to bond with Sutter: she's conscientious, devoted, studious, reads manga (japanese comics) in her bedroom and has dreams about going to college and being in love. She's also never had a boyfriend, and so when she starts spending time with Sutter, the ultimate social butterfly, friends on both sides start to worry.
Sutter himself isn't concerned, of course. Aimee's just a cool girl he wants to get to know, and besides that, he still believes he can win Cassidy back. So no one is more surprised than Sutter is when he finds himself liking Aimee more and more, and allowing her to get closer to who he really is beneath all his confidence and devil-may-care attitude than anyone else before.
So will the "good girl" get the party boy straightened out? Will he be strong enough to accept the challenge of a good girl's unconditionally given love, which comes with the obvious implication of commitment? Will Sutter finally decide to grow up, and accept that there's value in thinking more than just about living in the "now"?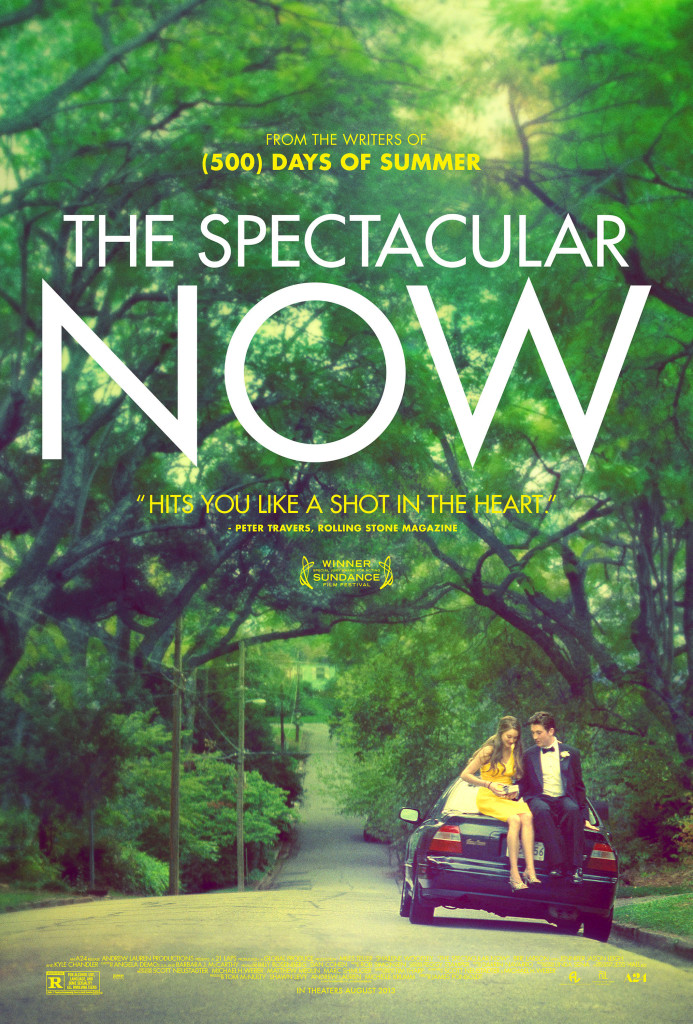 Don't let how generic these dramatic questions sound fool you. Yes, these are the tropes you often see in films about high school kids, but what makes The Spectacular Now so special and worth seeing is that unlike so many of today's films set in high school, this film is entirely devoid of cynicism or snark. Screenwriters Scott Neustadter and Michael H. Weber (500 Days of Summer), in adapting the novel of the same name by Tim Tharp, craft a story that from beginning to end feels true, in the sense that its full of moments and experiences pulled from the collective American teenage experience. We've all known someone like Sutter Keely or Aimee Finecky — the class clown who we loved to see at parties but never believed would amount to anything, or the quiet, straight-A student girl who the best anyone could ever say about her was that she was "nice", because no one really took the time to get to know her — or maybe you were that guy or girl. Whether you were or weren't, there's a great deal presented in this story that you'll recognize or relate to from your own experiences, and not because what's on-screen is stereotypical in any way, but because it's presented in such a genuine, honest way.
Built as the film is upon the believability of both Sutter's easy charm and hidden fears and doubts, the weight of carrying the film fall squarely upon the shoulders of actor Miles Teller, and he proves himself more than up to the task. Whether he's trying to talk his way into a bar he knows he's not old enough to get into, coaching up Aimee on how to stand up to herself and use profanity in her speech effectively to do it, or facing head-on the truth about his deadbeat drunk of a dad after having believed something entirely different about the man for so long, Teller's physicality and expressiveness never feels false. He wins you over as Sutter, and even during the film's most difficult moments, when the young man is at his lowest and making one mistake after the next, you'll still find yourself cheering for him. It's quite the tightrope Teller walks, and he walks it without faltering once.
If The Spectacular Now does have one important flaw, it's that its narrative lens is too tightly focused on Sutter, and audiences are never really allowed to see more than a glimpse of the important characters surrounding him. We're told about Aimee's difficult homelife, and we get short scenes showing Sutter's overworked mom, Sara (Jennifer Jason Leigh), his social climber sister Holly (Mary Elizabeth Winstead), and the dad Sutter believes Sara cast out of their home years ago, Tommy (Kyle Chandler). Director John Ponsoldt and the film's producers filled these roles with talented, seasoned performers, yet the film's editing gives us precious few opportunities to see them work their craft on-screen in roles they clearly committed to. It's a clear storytelling choice to allow Sutter's voice and point-of-view drive the narrative throughout the film — we experience the film's story entirely through his eyes — and while that choice does result in a film that's beautiful in its minimalist simplicity, it might leave you wondering what the film might have been like had we been allowed to see more of these characters' individual moments and crises dramatized, rather than just simply described in dialogue.
Those musings certainly won't ruin the experience of The Spectacular Now at all for those who choose to see it, however. It's an honest, beautifully told story that will have audiences waxing nostalgic about their adolescent firsts for hours after they leave the theater, and it should make some noise in terms of Oscar and Golden Globe recognition early next year in the "Best Adapted Screenplay" categories.
Score: 4 out of 5
The Spectacular Now
Starring Miles Teller, Shailene Woodley, Brie Larson, Mary Elizabeth Winstead, Jennifer Jason Leigh, and Kyle Chandler. Directed by James Ponsoldt.
Running Time: 95 minutes
Rated R for alcohol use, language and some sexuality – all involving teens.